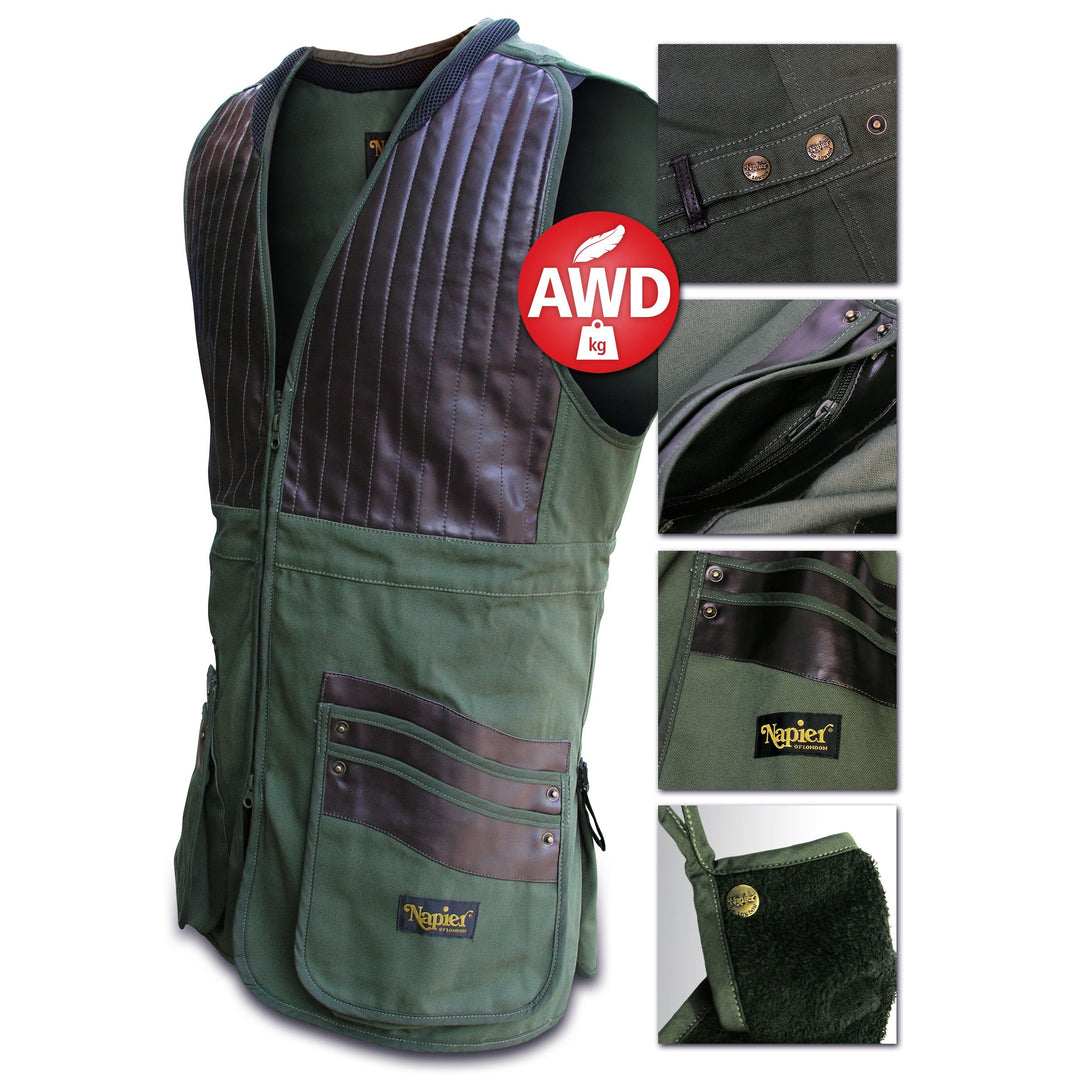 The Regent Skeet Vest
3800S
Regular price
£112.20
/
Tax included.
Shipping
calculated at checkout.
---
In stock, ready to ship

Inventory on the way
The Regent Skeet Vest with AWD System
Introducing the Regent Skeet Vests with AWD System - the ultimate clothing choice for clay pigeon shooting enthusiasts in need of top-notch clay shooting clothing. Our vest guarantees superior quality, unmatched comfort, and exceptional performance for all your outdoor adventures on the shooting range. Crafted with the finest materials, it boasts an array of impressive features including an Integral Chest Expander, a removable hand towel, non-snag PU leather panels, an adjustable waistband, a 2-way heavy-duty zip, and an inside zip wallet pocket. But what truly sets it apart is the innovative AWD system, designed to evenly distribute the weight of the cartridges across the shoulders and front panels. This ingenious feature ensures long-lasting comfort, allowing you to fully immerse yourself in the sport of clay shooting without any distractions. So gear up with the Regent Skeet Vest and experience the epitome of clay shooting excellence.
Shooting vest - Best Quality Materials
At Napier, we are passionately dedicated to providing the highest quality materials for our REGENT Vest clothing with AWD System, specifically designed for clay pigeon shooting. Our vest is meticulously crafted using 100% washed cotton canvas, ensuring exceptional durability and longevity. The PU leather panels are thoughtfully incorporated to prevent snags, while the adjustable waistband guarantees a tailored fit for optimal comfort. The Integral Chest Expander is always ready to deploy, enhancing ease of movement during clay shooting sessions. Additionally, our vest is equipped with a removable hand towel, ideal for conveniently wiping away sweat or dirt. Our clay shooting clothing collection, which also includes the Chilton shooting jacket will perfectly compliment your shooting shirts and shooting vests, to offer the perfect combination of style, functionality, and reliability for all clay shooting enthusiasts.
Shooting Essentials
With the Regent Skeet Vest, we have meticulously designed each clothing element to meet the essentials of clay pigeon shooting. The vest's pockets are strategically positioned and crafted for easy loading of cartridges, reducing any interruption in your shooting rhythm. This key feature, coupled with the Active Weight Distribution (AWD) system, enables seamless and efficient clay shooting. Moreover, our clay shooting clothing, including this vest, encourages optimum performance by facilitating easy movement and offering protection. Pair your vest with Napier's SR-Ricochet shooting glasses for enhanced precision and safety, making them integral shooting essentials. The Regent Vest does not merely offer pockets to store your cartridges— with AWD it elevates your overall clay shooting experience.
AWD: Active Weight Distribution for Optimum Movement and Balance
At the heart of our Regent Skeet Vests is the Active Weight Distribution (AWD) system—a game-changer in clay pigeon shooting. Crafted from breathable neoprene mesh, the AWD system ensures that the weight of the cartridges in the pockets is evenly distributed across the vest. This enhances movement and balance, particularly crucial during the intense act of clay pigeon shooting. The result is a significant increase in comfort, allowing you to focus on hitting those clays, thus boosting performance. By pairing our clay shooting clothing attire with the SR-Ricochet shooting glasses, the AWD system and SR-Ricochet protection truly revolutionises the clay pigeon shooting experience, redefining comfort and efficiency in the field.
Why Choose Napier's Regent Clay Clothing?
When partaking in clay pigeon shooting, the selection of attire plays a crucial role in determining your performance and comfort. Napier's Regent clay clothing, designed with this consideration in mind, ensures that you experience the utmost comfort and performance. Which ever type of under garment you choose, be it waterproof jackets, quilted jackets, jumpers or shirts they will all perfectly complement our Regent Vest, working harmoniously to enhance your clay pigeon shooting experience. Whether you opt for polo shirts, T-shirts, or jumpers, our vests serve as the ideal overgarment. Your clothing clay collection may include lightweight and breathable options for warmer days, and in cooler conditions, quilted jackets, shirts, and jumpers provide optimal comfort. All these garments will fit flawlessly under the Regent vest, which features a chest expander panel for those who prefer wearing a jacket underneath. As safety is paramount in shooting sports, it is essential to wear ear protection. Our Pro-9 ear defenders and Comfy ear plugs prioritise shielding your hearing without compromising your concentration on the sport. In essence, regardless of the weather or your choice of undergarments, selecting Napier's Regent clay clothing equips you with a stylish, functional, and safe ensemble for all your clay pigeon shooting endeavors. For added convenience, explore our full range of cartridge bags, perfect for storing your ammunition during country pursuits.
Note: It's essential to not overlook the importance of sensible footwear while engaging in clay pigeon shooting. A good pair of shooting boots or outdoor shoes provide much-needed ankle support and ensure a firm grip on the ground, allowing you to move with agility and stability on varying terrains. Furthermore, they offer protection from elements like mud, wet grass, or unexpected weather changes.
See our blog post - Quick Guide to Trap Vests for Shooting Enthusiasts: Enhance Your Performance and Comfort
Vest size Guide
Our REGENT Vest with AWD System is available in a range of sizes to ensure a perfect fit. The chest measurements to fit are:
Small (91cm/36"), Medium (102cm/40"), Large (107cm/42"), XL (112cm/44"), XXL (117cm/46"), and XXXL (122cm/48").
With our size guide, you can be sure that you'll find the perfect fit for your outdoor adventures.